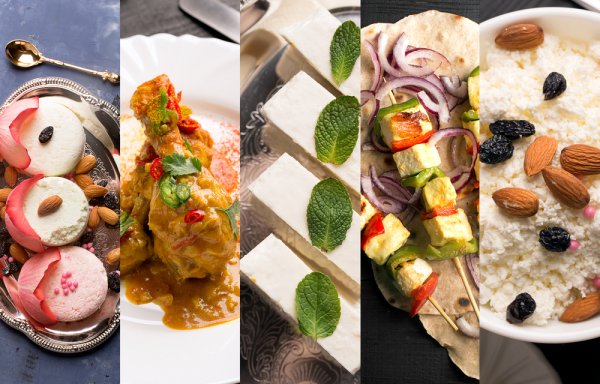 No celebration is complete without sweets or desserts. Although you do not need a reason to satisfy your cravings, celebrations are a good enough reason to have a cheat day. Some of the most popular sweets and desserts in every celebration are Kaju Katli, Phirni, etc. Who can say no to these amazing sweets? The name of these sweets might sound intimidating, but trust me, the Kaju Katli recipe and Phirni are super easy to cook. The tradition of including sweets in every celebration continues to be there and enhances the fun of every event. 
This recipe will take 5 minutes for preparation, 30 minutes to get cooked, and it serves 5 people.
Ingredients
150 grams Kaju or cashew nuts

50 grams maida
150 grams khoya

200 grams Nestlé MILKMAID

Half cup Nestlé a+ Nourish Milk
Recipe
Step 1- Prepare fine Kaju powder by crushing it. 
Step 2- Make a smooth paste of all the ingredients putting all of them together with the Kaju powder.
Step 3- Put a thick bottom pan or kadai on flame and transfer the mixture into the pan.
Step 4- Cook on the low flame until the paste doesn't stick to the walls and form a ball.
Step 5- Transfer the mixture to a large tray and roll it out thinly. 
Step 6- Let it cool, and then cut the mixture into diamond shapes.
Phirni is a go-to-dessert on hot summer days. Its light and creamy texture would not let you say no to it. The phirni recipe is one of the easiest recipes and takes only 15 to 20 minutes to get ready.
Ingredients
100 grams rice

3 cups Nestlé a+ Nourish Milk

1 TSP rose water

1 TSP elaichi powder

400 grams Nestlé MILKMAID

Few rose petals
Recipe
Step 1- Soak the rice in water for at least an hour. Drain the water and make a fine paste.
Step 2- Add Nestlé a+ Nourish Milk and the paste together and cook while stirring it continuously. The mixture should not stick to the bottom of the pan.
Step 3- Bring the mixture to boil and continue to cook for another 5 to 10 minutes. 
Step 4- Now add the Nestlé MILKMAID and turn off the flame.
Step 5- Add rose water and cardamom powder. Let the mixture cool and keep it in the refrigerator for some time.
Step 6- Garnish it with rose petals while serving.
Conclusion
Give your day a sweet turn by adding these two desserts to your celebration and enjoy the moments.